Snap-in Leeboard Mounts with all stainless steel threads
Item #: 4808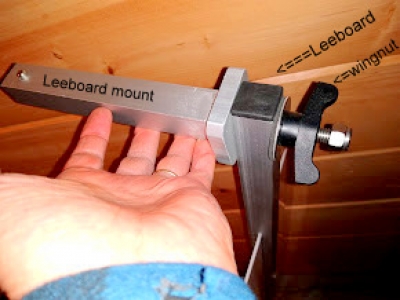 These mounts snap into our crossbar allowing you to mount a leeboard. These replace our similar part that had aluminum female threads. Both male and female thread on these are stainless steel, for longer life. Includes threaded shaft and the knob that screws onto it to hold the leeboard on.

New sail kits and new orders for snap-in leeboard mounts will get these more durable versions of the snap-in mount automatically. If you have existing snap-in mounts you would like to replace with these more durable ones, this is the item to order. Price is for a pair of mounts with knobs and washers. These are for going right into the main front crossbar, not for mounting on side rails. See item 4806 (click) for snap-off mount that attaches to the side rails of a U-shaped front assembly.
PRICE: $44.00 + $8.00 S&H --> BUY NOW! <--
---