Upgrade Your Order to Quick Release Leeboard Mounts
Item #: 4807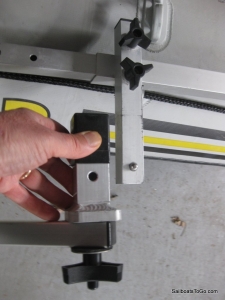 Add this item 4807 to your shopping cart if you are buying a sail kit or complete inflatable sailboat that uses the U-shaped front assembly (most do) to upgrade the leeboard mounts by substituting in the quick-release type. Highly recommended!

More convenient and more durable than our standard mount. Leeboards snap on and off and do not have to be screwed on and off each time, saving time. Threads are stainless steel for both male and female parts, eliminating the less durable aluminum female threads on the standard mount. And the female thread of the leeboard knob has a friction ring to help keep it tight once you tighten it -- another feature unique to the snap-off mount.

Upgrade from the get-go and save $20 relative to the cost of upgrading later.

If you want the mounts to upgrade a kit you bought previously, you need item 4806 (click) instead.
PRICE: $29.00 + $0.00 S&H --> BUY NOW! <--
---