13' Sportspal Canoe X13 - Aluminum - WIDE Square Stern - shipping TBD -
Item #: 3045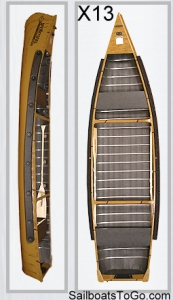 Click picture to enlarge it.

Wide transom canoe for more stability and more space at the rear than the other square stern canoes in this line.

Weight 72 lbs. Centerline Length 13'0" Beam 38"/44" Depth - Transom Width 28.5" Transom Height 15" Persons 4 Max. Capacity 555 lbs. Max. Horsepower 2 Hull Thickness 0.032 Number of Ribs 24 Stern Type Square

Shipped to your door. Cost to be determined. You can request advance quote, or place the order first, with right to cancel if shipping cost is unacceptable. Order early if you can -- shipping costs often are lower if you give us time to shop around and if we can give carriers lots of flexibility on the delivery date.

Boating involves risk of injury or death. Please learn the rules of safe boating to reduce your risk.
PRICE: $1899.00 + $0.00 S&H --> BUY NOW! <--
---