Sea Eagle Electric Pump 12 volt (two-stage)
Item #: 3013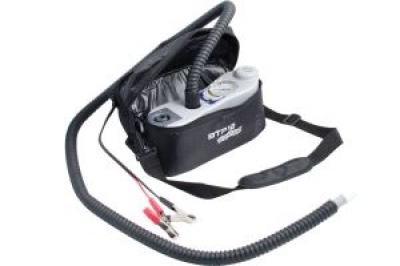 12-volt pump operates from vehicle electrical system. Features: Turn dial pressure selector Stops automatically when selected pressure is reached Custom carry bag Common valve adapters 102" (8'6") cable w/alligator clips to connect to 12 volt battery 72" (6') inflation hose Combination turbine and high pressure piston pump Maximum Pressure: 14.5 PSI/1 Bar Weight: 4 lbs. Dimensions: 12" x 4" x 6" Requires 12V DC power supply Max absorption 20 Amps Can be fitted with an optional Turbo Pump Lead Battery kit for cordless use Battery not included

The latest in high-tech pumps, the Electric Turbo Pump will inflate our 12.6sr in less than 5 minutes, more than 3x faster than a foot pump. This two-stage pump will rapidly inflate with a high capacity turbine blower and then switch to a high pressure piston pump to pressurize the hull. just $159 Recommended for: Explorer Inflatable Kayaks FastTrack Inflatable Kayaks FoldCat Inflatable Pontoon Boats Frameless Pontoon Boats NeedleNose SUPs Sport Runabouts Kayak sail kit options, upgrades and accessories page: Click Here.
PRICE: $159.00 + $15.00 S&H --> BUY NOW! <--
---
© 2001 - 2020 SailboatsToGo, LLC. All rights reserved.