Any Sea Eagle Boat at big discount
Item #: 3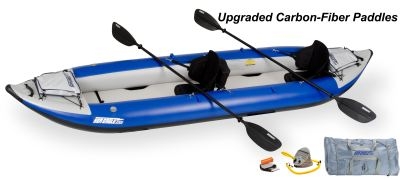 We sell new Sea Eagle boats at 10% below the SeaEagle.com website (max. discount $100). We even go 10% below their on-sale special pricing (max. of $100 below). Used boats too! Here's how to order: Just go to SeaEagle.com (Click Here) and note their current price for what you want, then come back here and put this item in your cart and update the quantity to their price less 10% (or less $100 if their price is over $1000). It sounds funny but it works -- set our quantity equal to the price we are offering! Example: Let's say you want to buy the Sea Eagle 330 and the current sale price on SeaEagle.com is $280. So you would order 252 quantity of this item, click "update quantity." Then proceed to the checkout page where you would put in the comments section that you were ordering a model 330. Your order total will be $252 ($280 minus 10%). Next thing you know, your boat will arrive at your door, shipped straight from Sea Eagle with usual Sea Eagle warranty (but not 180-day on-water trial return privilege) Questions? Email jim@sailboatsToGo.com or call Jim at 978 263 7598. Phone orders accepted. We are authorized Sea Eagle dealers. Standard Sea Eagle warranties apply. 120-day on-water trial does NOT apply. Shipping will be same cost as Sea Eagle website gives (usually free, but if you are outside continental US we will add the shipping manually later). Many Sea Eagle accessories are also discounted, so contact us. Sales tax outside MA will be added by us in a separate charge to your card after the order is in our system (days after).
PRICE: $1.00 + $0.00 S&H --> BUY NOW! <--
---
© 2001 - 2023 SailboatsToGo, LLC. All rights reserved.