Minicat Guppy - A 10' Inflatable Catamaran Sailboat - Shipping TBD
Item #: 2070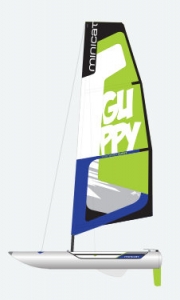 Complete sailing catamaran in one bag that fits into any personal car and weighs about 59 lbs. Really! We fit one into a tiny Smart Car 2-seater without encroaching on the driver's seat at all. New model with unstayed mast. Inflates and assembles quickly. (The maker says 10 minutes. Figure a little bit more, but still quick.) Shipped direct to your door from the Czech Republic. Great for beginners and for experienced sailors who just want something simple to play around on. For 1 or 2 people. FULL PAGE ON THIS MODEL AND ITS SISTERS CLICK HERE

Length 9' 10"
Width 4' 11"
WEIGHT 59 lbs
MAST HEIGHT 12' 11.5"
SAIL AREA 48 ft2 (4.5 sq meters)
CREW SIZE 1 - 2
CARRYING CAPACITY 518 lbs
SETUP/RIGGING TIME 10 - 20 minutes


We are shipping the new model.

Shipping is subject to adjustment, with your approval.
PRICE: $3759.00 + $350.00 S&H --> BUY NOW! <--
---