Trinity II by Aire 15' Sailing Kayak - Best Quality
Item #: 2048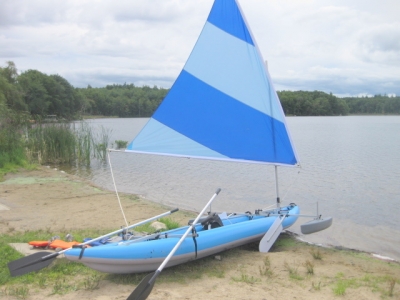 Faster and more durable than the Sevylor or Saturn kayaks. Made by Aire but sold as the Trinity II (private label). We found this boat on a serious kayaking website (www.theboatpeople.com, under "touring kayaks") and married it to our sail kit, and are very pleased with the results. Part of the reason it is so fast is that it is very narrow - just 32 inches. It can be sailed without stabilizer floats if you're good, but most people will want to add our item 1006 stabilizer floats because this kayak is narrow and tippy. This item is the boat, 2 seats and the complete sail kit with 45 SF sail. 2 steering oars included. Hull length is 15' 3". Self bailing. Hull weight is 44 pounds. Click on picture at left to enlarge. Available with the red/white/blue/yellow sail that you see on many of our other boats on this website or the 2-tone blue. We haven't done a really good video of this boat yet, but there's a clip at http://tinyurl.com/trinityII . Boat does not come with paddles or a pump or a boat bag. item 2054 will supply these. Recommended order: item 2048, item 2054, item 1006, and item 6005. Consider item 5011 too; or item 301 will get you both item 5011 and item 6005 plus an electric inflator to do most (but not all) of the inflation. Kayak sail kit options, upgrades and accessories page: Click Here. Kayak sail kit options, upgrades and accessories page: Click Here.
PRICE: $2049.00 + $75.00 S&H --> BUY NOW! <--
---
© 2001 - 2019 SailboatsToGo, LLC. All rights reserved.