Saturn River Raft & Sail Kit with Rudder Steering
Item #: 1078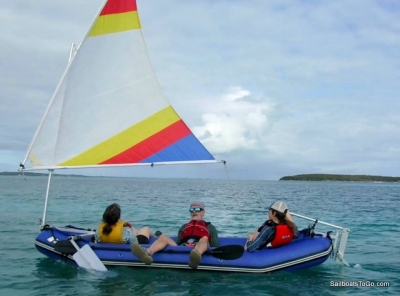 See item 1076 for the full description of this great boat and sail kit, but order here if you prefer to have traditional rudder steering instead of steering-oar steering.

Advantages of steering oars: (1) You'll never have trouble coming about and get stuck pointed directly into the wind with steering oar steering. That occasionally happens in any sailboat with a traditional rudder. (2) The steering oar system is compatible with the motor mount, while the rudder system is not. (3) You can sit centered facing straight ahead with steering oars at your sides, while with a rudder you generally sit to the side and have to twist your neck to look forward.

Advantages of traditional rudder: (1) The traditional rudder requires less arm effort to hold your course in strong winds. (2) It's what most sailors are used to.

The RD365 adapts well to the traditional rudder and it steers well with it. The rudder has a kick-up blade so you can beach the boat and launch from a beach easily.

Not compatible with our tiller-turner system. Not compatible with motor mount.

Standard rudder blade is phenolic just like our standard leeboards. Upgrade of the blade to polycarbonate is item 5193.

See video clip of sailing with the rudder.
PRICE: $1549.00 + $130.00 S&H --> BUY NOW! <--
---