Square posts and float arms for Hydrodynamic Floats - Convert Yours!
Item #: 1037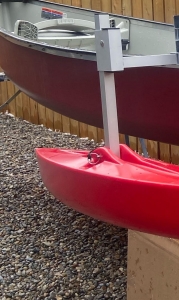 For picture and more details on the square-post system, Click Here.

If you have 37" hydrodynamic stabilizer floats (current design) and would like to convert them to our super-convenient square-post system, this is the conversion kit that lets you do that. It consists of a set of square posts that fit over the round posts and are held in place by the pin you already have, plus a pair of float arms with the clamps for the square post system. Floats not included.

If you have the older 42" floats, you can still use this, but not as easily. Contact us (jim@sailboatsToGo.com or 1-978-263-7598) for details on square-post conversion for the old 42-inch floats.

The square post system is better because (a) it automatically aligns the floats straight ahead and they cannot ever turn, plus (b) the clamp is a simple one-hand-operated turn-knob that securely holds the vertical setting you want with minimum hand strength required. This eliminates the need for the lever-lock clamp used on round posts, so locking and unlocking becomes a 1-handed, no-strain operation!
The conversion process is very simple, requiring no tools. Takes about 3 minutes. Everything you will need is provided.

Included: 2 posts, 2 arms and instructions. Converts one pair of floats. Your old arms will no longer be needed, so if they have been lost or damaged, no problem!


PRICE: $140.00 + $15.00 S&H --> BUY NOW! <--
---