Canoe side rudder - substitute for steering oar
Item #: 1019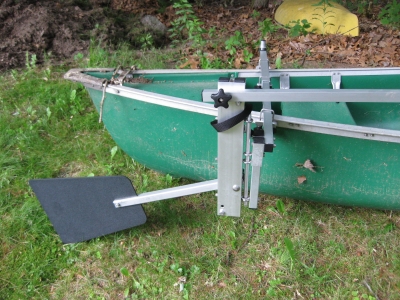 Use this item to delete the steering oar unit and steering oar from a canoe sail kit you are ordering today and substitute in the complete side rudder unit. This item number can only be used with a canoe sail kit purchase. We like sailing with a steering oar. But we know some prefer a conventional rudder. The advantage of the rudder is less arm effort, less drag. The advantage of the steering oar is lower cost and you have steering control even if the boat loses forward momentum. Canoe sail kit options, upgrades and accessories page: Click Here.
PRICE: $99.00 + $0.00 S&H --> BUY NOW! <--
---
© 2001 - 2021 SailboatsToGo, LLC. All rights reserved.