MyCanoe Duo Origami Folding Canoe
Item #: 1011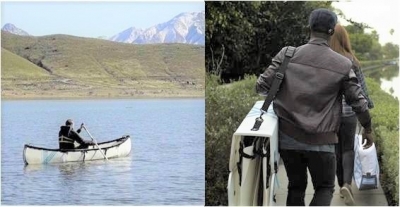 A Folding canoe that goes anywhere!
MyCanoe is an award winning, lightweight, TUV certified, and patented origami folding canoe. It turns into a beautiful canoe in 10 minutes. Its full sized 14.5 ft with two seats are perfect for sharing with family and friends for a quick trip to water. It folds back to a 37 x 25 inch case, travels in a carrying case, and it fits in most small sedans so it'll be ready for adventure when you are.
The body of the MyCanoe is made from a custom polypropylene with a 15 year UV treatment that is rated 20,000 folds.
We are authorized MyCanoe dealers. Same warranty as if you bought direct from manufacturer. Note: The canoe will be shipped from MyCanoe. If they charge us sales tax on your order, we will charge your card later as a separate transaction for that. Our checkout process will only charge tax on Massachusetts delivery addresses.
FREE SHIPPING!

Try these links:

Sail kit for MyCanoe

Sail kit and MyCanoe package with free shipping on both

Not returnable.


PRICE: $1290.00 + $50.00 S&H --> BUY NOW! <--
---