Canoe Sail Rig w/out Stabilizer Floats
Item #: 1001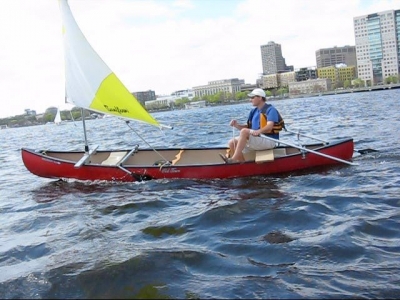 Same as rig with stabilizer floats except, um, no stabilizer floats. Easy to add the floats later if you decide you need them (and you are still alive). Seriously, some canoes are stable enough, some sailors are skilled enough, and some waters are safe enough so that stabilizer floats are not always needed. Front crossbar will be 40" (good for 99% of canoes) unless you email us and request different. Long works on narrow canoe but short could be a problem on a wide canoe. Other two crossbars are adjustable. See item 999 for list of available upgrades and options. Video Click Here If you already have a Spring Creek stabilizer, see item 1017. Shipping dimensions 48" x 12" x 12". 37 lbs. Canoe sail kit options, upgrades and accessories page: Click Here.
PRICE: $769.00 + $30.00 S&H --> BUY NOW! <--
---
© 2001 - 2023 SailboatsToGo, LLC. All rights reserved.