Bolt-on gunwale J brackets accept gunwale clamp aka false gutters
Item #: 5098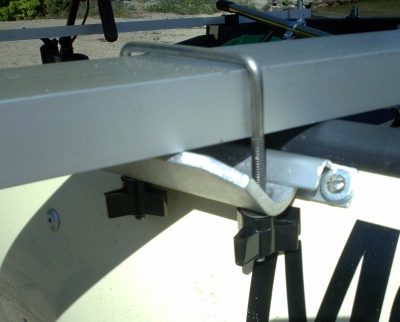 If your canoe or fishing boat has no gunwale lip or only a rounded gunwale lip with no good surface underneath for our gunwale clamps to get a good hold on, you need these brackets. You drill and bolt on, or rivet on, these brackets at each location where a gunwale clamp will be and the clamp grabs the bracket just like it was a gunwale lip. We supply bolts or rivets (email us which to send -- use rivets if you can't get to back side - requires a pop riveting tool, which is not an expensive tool to buy if you don't have one). Called "false gutters" because they also work for clamp-on roof racks for vehicles without rain gutters. Need 3 pair for a canoe sail kit; one pair for stabilizer. Sold by the pair. Profile is like an upside-down J. No shipping will be charge automatically and it is free shipping for these if you are buying something else significant. But if you order these by themselves, there will be a $8 shipping charge added after your order is processed.
PRICE: $19.00 + $0.00 S&H --> BUY NOW! <--
---
© 2001 - 2023 SailboatsToGo, LLC. All rights reserved.