Return to: DIY Plans - Canoe Sailing Rig / Inflatable Sailboat Rig
Sail and Spars Bag - Long Skinny Sack Great for Car Topping
Item #: 5190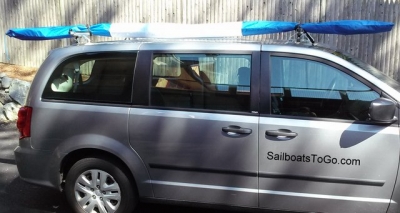 Heavy duty drawstring bag measures 12' 8" long and about 6 inches in diameter (9 inches wide if empty and flat). Fits our spars, sail and mast without folding them. Click Here for Photos. Fits spars, sail and mast of Super Snark or Sunflower. Protects the sail from flapping and shredding itself when car-topping. Keeps all these vital parts together in your garage or basement so they don't get lost or forgotten between sailing excursions. Protects sail from sun, wind and rain when stored or transported outside. If you have our folding spars and mast, you don't absolutely need a full length bag like this, but it's a nice option to save the time of folding and unfolding. Sent by US Mail if ordered by itself so please give a postal shipping address for this item. Free shipping applies if ordered with other items that carry a shipping charge. Otherwise $7 charge will be added for shipping in a separate transaction when we ship.
PRICE: $59.00 + $0.00 S&H --> BUY NOW! <--
---
© 2001 - 2023 SailboatsToGo, LLC. All rights reserved.