Sail Kit Spare Parts Package
Item #: 997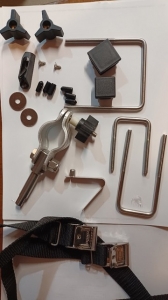 You may never need any of this stuff, but spare parts give peace of mind!

Includes the following spare parts:
3 stainless u-bolts (one of each size we use).
2 stainless washers and star knobs for ubolts
6 vinyl end caps for u-bolts
1 string cleat with screws (such as are mounted on spars for securing sail)
2 short straps (for securing oarpins and numerous other uses)
1 clamp-on oarpin for steering oar
1 spring button (used in mast, rear crossbar and oars to lock sections together)
1 large and 1 small square tubing plug.

We assume you'll be buying this with a sail kit, so we have not put any shipping cost on it. If you're not, then please expect an $8 additional charge for postage to be done manually when your order is mailed out.
PRICE: $37.00 + $0.00 S&H --> BUY NOW! <--
---