Custom shipping & handling amount
Item #: 8889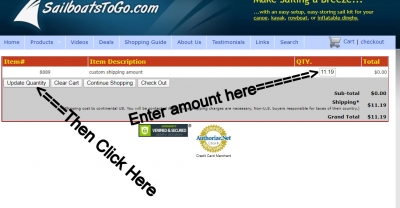 To customize your shipping & handling payment, read the following 4 steps and then do them:

1) Click "buy now" at lower right.

2) In your cart, change the "QTY." field next to "custom shipping amount" to the appropriate amount. Example: To pay $11.19 additional shipping, you enter "11.19" under "QTY."

3) Click the "Update Quantity" button at the lower left of your shopping cart. (Photo at left illustrates steps 2 and 3.)

4) Check out.

Got it? Good. Do it: Click "Buy Now" below
and that will take you into the shopping cart where you enter a number under "QTY." and then click the "Update Quantity" button.
PRICE: $0.00 + $1.00 S&H --> BUY NOW! <--
---