Mast extension for Super Snark, Sunflower or Sea Snark replaces mast cap
Item #: 5211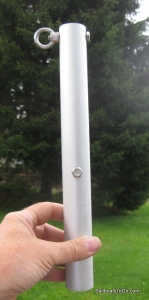 Get more headroom under your boom! This item replaces the mast cap and extends the top of your mast 6 inches. The mast cap is no longer needed because this extension has a beautiful stainless steel or thermoplastic eye at the top for your halyard. Free shipping in lower 48 states. Having the boom higher also means you can heel over more without the boom hitting the water -- a great benefit for those who like to push the limits for sailing thrills! Fits standard OEM masts, not our own masts. A taller mast makes a big difference in comfort in the Super Snark. Theoretically, it reduces stability a little, but the effect is so minor you probably will not even notice it. And, any time you want to revert to the original sail height, that's easily done.

Also consider item 5209, which offers a choice of height settings up to 15 inches of extension, and is similar in principle.
PRICE: $35.00 + $0.00 S&H --> BUY NOW! <--
---