Crossbar seat
Item #: 5068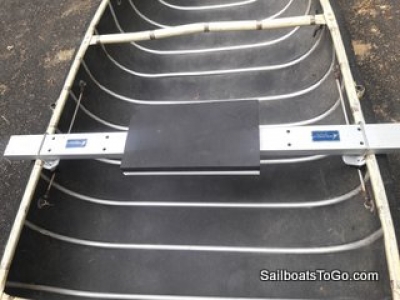 Turns our double-tube crossbar (item 5034) into a seat. Add this seating surface to our canoe stabilizer and now you've got a combination stabilizer and seat. It's a flat seat with cushion, about 8" x 14". Free shipping when ordered as part of a larger order. Otherwise, we will add $15 shipping. Plug our rowing outriggers (item 5030) into the crossbar underneath and it serves as a great rowing seat -- nice to have the crossbar under you instead of in front of you! This seat cannot be used by itself. It requires the double-tube crossbar under it. If you already have our crossbar, two holes will need to be drilled to accept this seat. If you are ordering a crossbar with this seat, we will drill the needed holes. Crossbar comes with our stabilizers, or many of our rowing packages. Or can be purchased separately. Canoe sail kit options, upgrades and accessories page: Click Here.
PRICE: $49.00 + $0.00 S&H --> BUY NOW! <--
---
© 2001 - 2019 SailboatsToGo, LLC. All rights reserved.