Link Arms adaptors and extension arm for 2-float stabilizers (pair)
Item #: 5051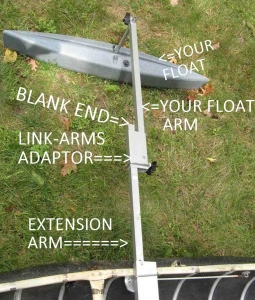 Extend the spread between your stabilizer floats with our Link Arms adapter and extension arm. Price is for 2 adapters and 2 arms. Can be used with all our 2 float stabilizer systems. (Note extreme extension is for going slowly or staying in one place, only). The extension arms do not have clamps on them for the vertical float tubes. They have a spring button on one end to lock them when they slide into the crossbar and they are blank (no fitting) on the other end. The link arms adapters slide along the extension arms and lock by means of a clamp that is built into the adapter.

Note: If you are modifying a 4-float system and already have 4 arms, this is the wrong item for you. You want just a pair of adapters, which is item 5050 (click) instead, because you don't need more arms. You only need the adapters.
PRICE: $79.00 + $10.00 S&H --> BUY NOW! <--
---