Kayak stabilizer with Hydro-Dynamic Floats
Item #: 5027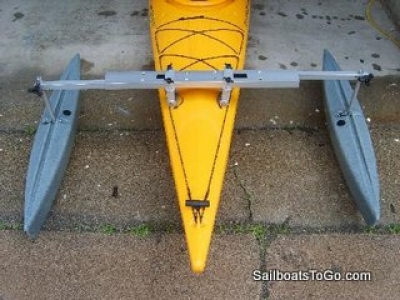 Same as our classic kayak stabilizer, but with longer and more streamlined "Hydo-Dynamic" floats, in your choice of 4 colors. The foam floats are lighter and shorter and priced lower. So, they are more portable and more affordable. If you think of stabilizer floats as insurance, and you don't intend to drag them through the water, but instead plan to have them above the water ready to catch you if you start to tip, then you don't care about drag. But if you are going to be leaning over enough to have a float in the water while moving, then these longer more streamlined floats will cause less drag (almost none). Available in grey, mango, yellow or red. Specify color in comment space during checkout. If you don't specify, we'll send gray. CLICK HERE FOR PICTURES Extra deck brackets available - item 5104 - so you can swap one stabilizer between 2 kayaks or between front and back deck of same kayak.
PRICE: $424.00 + $0.00 S&H --> BUY NOW! <--
---
© 2001 - 2021 SailboatsToGo, LLC. All rights reserved.