Spar Set for Super Snark/Sea Snark - Stronger & Better
Item #: 5023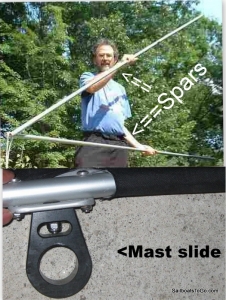 Stronger than original equipment, yet our boom and spar fold so they're inexpensive to ship and convenient for you to store and transport. Carry your sail in the trunk, not on the roof, because you can fold and unfold the sail while it's on the spars, with our system. Folds down into 4-ft. long bundle. Aluminum. Includes swiveling boom guide assembly ($29 value), ropes ($20 value) and all other necessary hardware that attaches to boom and top spar. Complete instructions included.

Add item 5160 for Sunflower with 55 SF sail.

Includes ropes and swiveling mast slide. With original Snark equipment all you get for connecting the boom to the mast is a rigid metal u-shaped fitting, that will bend and possibly break if you accidentally lift up on the tail end of the boom. With our equipment you get a swiveling mast slide that eliminates this potential problem.

See customer praise for this superior system: click here.

In stock at SailboatsToGo. Usually ships within 2 business days after you order.
PRICE: $159.00 + $15.00 S&H --> BUY NOW! <--
---