Pakpod - Deck Bag, Paddle Float and Waterproof Backpack. Could Save Your Life.
Item #: 1033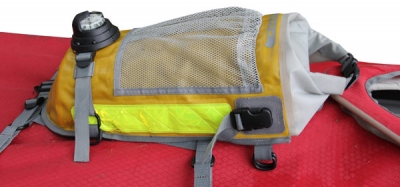 The perfect deck bag, backpack and paddle float self-rescue device for your canoe or kayak. MORE INFO CLICK HERE Independent review: CLICK HERE What's a paddle float? You slip it over one blade of your kayak paddle and use it in rough conditions as an emergency stabilizer or if you capsize (or intentionally go swimming), you rest one end of the paddle on the kayak while the other is supported by the float and it give you something to push down on to lift yourself up out of the water and back into the cockpit. When it isn't being a float, it's a water-tight dry bag for important gear. On land it's a backpack. Video: CLICK HERE Canoe sail kit options, upgrades and accessories page: Click Here.
PRICE: $113.00 + $15.00 S&H --> BUY NOW! <--
---
© 2001 - 2020 SailboatsToGo, LLC. All rights reserved.