Bolt-on Sail Kit for Wavewalk Kayak with HD Stabilizer Floats
Item #: 6031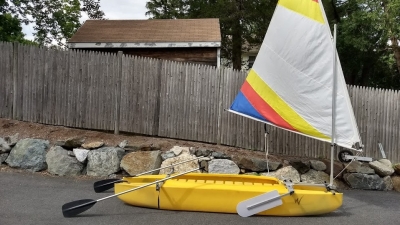 Similar to item 6030 sail kit, but designed for bolt-on installation.

New improved version of the bolt-on kit attaches with just 4 u-bolts (included)! You drill just 8 little 1/4-in. holes in the top deck. That's it! U-bolts stay on the kayak when not sailing and drop down flat against the deck. So to add the sail kit you just slide the crossbars into the u-bolts and tighten the hand knob nuts on the u-bolts. Removing is just as easy and quick!

Installation video: CLICK HERE.



Sailing Video showing latest version of bolt-on kit only: Click Here. Another Sailing Video (blend of strap-on kit and bolt-on): CLICK HERE .

Includes stabilizer floats, leeboards, 45 SF sail, 1 steering oar. Upgrades and add-ons to consider: Sail kit bag (item 6005), 2nd steering oar, upgrade to heavy-duty mast and 55 SF sail (item 5011). For strap-on version (no drilling) see item 6030. Kayak sail kit options, upgrades and accessories page: Click Here.

Also available with inflatable pontoons instead of the rigid for $100 less. Order this and put in order comments you want the inflatables and we'll give you that and refund $100.

Inflatable pontoons make your kit even more portable and affordable. Either way, all assemblies break down and fold to fit in 4-foot bag. So it's very portable.
PRICE: $999.00 + $50.00 S&H --> BUY NOW! <--
---