Sea Eagle 420x Pro package and Sail kit
Item #: 6028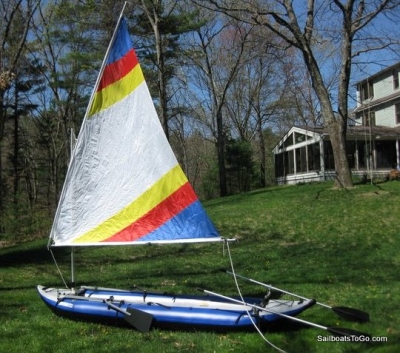 The Sea Eagle 420X Explorer kayak in its Pro Package version (kayak, 2 tall back noninflatable seats, foot pump, paddles, bow bag, stern bag, boat bag) plus our item 6026 sail kit. Bow and stern storage bags cannot be used with sail kit, but when you are paddling with sail kit removed they'll be useful. Gives you $100 savings plus free shipping, relative to purchase of only sail kit from us and kayak from SeaEagle.com sale price! This is a 14' extremely rugged kayak. Like the 380x, it's so tough you can stab it with a screwdriver, pound on it with the claw side of a claw hammer, and it won't puncture. Click Here for a page full of upgrades and accessories! Just 42 lbs for the kayak and 33 lbs for the sail kit. Get this kayak with high quality carbon fiber paddles -- see item 6050. Big enough for 3 people because it's 14-feet long. 45 square foot sail included. Shown here with the larger 55 SF sail (item 5011 substitutes in the larger sail). Click HERE for 420X sailing video. Note: Sea Eagle has eliminated front web handles on the sides but our instructions cover how to install without them.
PRICE: $1749.00 + $0.00 S&H --> BUY NOW! <--
---
© 2001 - 2019 SailboatsToGo, LLC. All rights reserved.