Sail kit for Sea Eagle Explorer Kayaks, 300x, 380x, 420x
Item #: 6026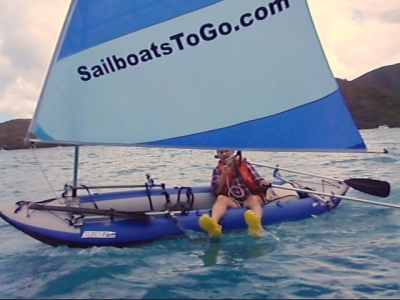 Everything you need to convert a Sea Eage Explorer kayak (300x, 380x, 420x) into a sailboat. Includes mast, sail, spars, mast step, front frame, leeboards, rear assembly and 2 steering oars and oarpins, together with all mounting straps and hardware. Standard rig has 45 SF nylon sail. Upgrade to 55 SF sail by adding item 5011 to your cart. Other options to consider include a sail kit carry bag, unbreakable leeboards, dacron sail, hydrodynamic stabilizer floats (item 1006). Save money by getting kayak from us too. Email Jim@sailboatsToGo.com for quote if you don't see the Sea Eagle kayak package you want below. More Info Click Here

We always sell Sea Eagle kayaks at a greater discount than current Sea Eagle sale price. Click Here for a page full of upgrades and accessories! Several different sail color schemes you can choose from -- all without logo. Want to see it sail? Click Here for Sea Eagle 380X Video! See how portable all our inflatable sailing kayaks are! Click HERE for 420X sailing video.

Customer comment: "Hi Jim, we wanted to thank you for a great product. It arrived on time and we have now sailed on 2 lakes in Oregon, puget sound in WA and just got back from 4th sail at desperation state park. Everywhere we go people admire the boat. I have given your website to at least 6 people in the last 6 days. The sailing experience was as wonderful as your video, minus the caribbean music. We read the entire instruction booklet and appreciate the detail and advice, especially on how to avoid dead zones. In love! Many thanks. When we upgrade to a larger sail, I'll get the one with the logo. Barbara and Satoru M. " (July 2013 - bought Sea Eagle 380X and SailboatsToGo 45 SF sail kit with heavy duty mast)

Note: Sea Eagle has eliminated front web handles on the sides but our instructions cover how to install without them.
PRICE: $599.00 + $35.00 S&H --> BUY NOW! <--
---
© 2001 - 2018 SailboatsToGo, LLC. All rights reserved.