Kayak Upwind Sail Kit, with U-shaped front unit, for Fast Track, Saturn, etc.
Item #: 6022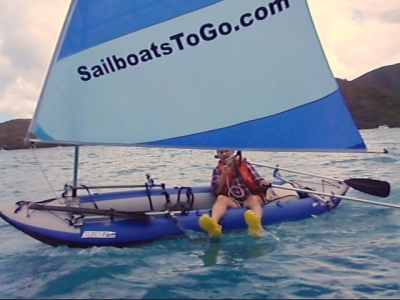 Complete sail kit, like the item 2021 but with a U-shaped front assembly instead of the T-shaped one in the item 2021 rig. This is for the Sea Eagle Fast Track, Saturn 12' & 13', Conquest Vista, Advanced Elements Convertible and Strait Edge (tandems or singles), Innova Helios II and Pathfinder II. Video: Click Here. Stabilizer pontoons optional (Hydrodynamic stabilizers for most speed, item 1006; inflatable for most portability, item 1013; foam for least cost item 1002).

Advantages of this rig are (1) best fit for listed kayaks, (2) leaves cockpit completely unobtructed and only front 3 feet (approx) of side tubes have a metal piece on them. Great for easy entry and exit, paddling, and sitting up on side tube hiking out. MORE INFO & PICS CLICK HERE. Standard mast and 45 SF nylon sail. Can be upgraded to heavy duty mast, larger sail by adding item 5011. item 6007 carry bag recommended. 2 steering oars included. Also fits the Saturn Expedition kayaks very nicely. Shipping dimensions: 47 x 9 x 11 inches. Video of this sail rig on Innova Helios II inflatable kayak.

Kayak sail kit options, upgrades and accessories page: Click Here.
PRICE: $599.00 + $35.00 S&H --> BUY NOW! <--
---
© 2001 - 2019 SailboatsToGo, LLC. All rights reserved.