The Any Kayak Sail Kit Without Stabilizer Floats
Item #: 6020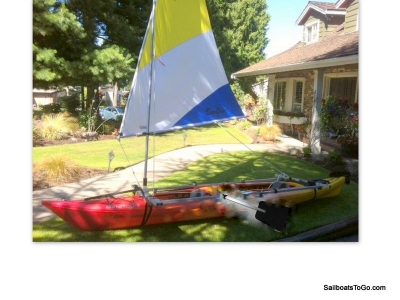 Like item 6004 kayak sail rig, but without the stabilizer floats. There are a few kayaks that are wide enough, with flatish bottoms, so that they can be sailed without stabilizer floats if you have reasonable skill and some tolerance for capsize risk. This is also the sail rig for dinghies that can't use item 2001 or item 2009 because they lack the right attachment points on the stern. Regarding kayaks: A flat-bottomed hull, combined with some weight up front (a passenger, or some inanimate ballast like a sandbag or water bag) can provide a lot of stability. If later you find you want the floats, it's easy enough to add them -- the float arms just slide right into the front crossbar and lock in place with spring buttons. Regarding dinghies: This is just like item 2001, except this rig has additional sections that extend the side rails so they reach all the way to the rear crossbar and attach to it, stabilizing it so that it doesn't depend on having motor mount fittings or a stern handle to attach itself to. Regarding both: Email us describing your boat after purchase so we can give you the right width for front crossbar. Includes sail, mast, spars, mast, step, frame, leeboards, one steering oar and oarpin, straps, ropes, hardware -- a complete kit with everything you need to sail a kayak that doesn't need stabilizer floats. Kayak sail kit options, upgrades and accessories page: Click Here. Dinghy sail kit options, upgrades and accessories page: Click Here.
PRICE: $599.00 + $30.00 S&H --> BUY NOW! <--
---
© 2001 - 2019 SailboatsToGo, LLC. All rights reserved.