Cam Cleat on a Caribiner for Halyard or Sheet
Item #: 5705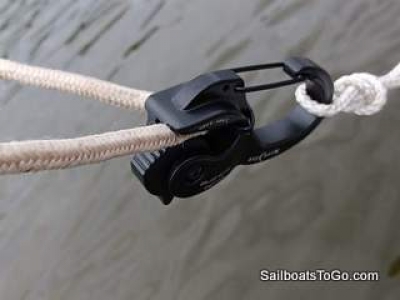 A clip-on cam cleat. Clip it to something on the boat for holding the halyard or sheet. Jerk the line one way and this gadget grabs and holds it. Jerk it the other way and it releases the line.

Note: Cleating a sheet always increases your risk of capsizing; although it is designed to allow quick releasing, it might not be quick enough in a sudden gust. For many, it's an acceptable risk, for the sake of not having to hold against the tug of the sail all the time.

Our price is not the best. We offer it for your convenience. You can save a few dollars by finding it on Amazon or at a Home Center ("CamJam XT 1500 lbs"). Just make sure it is the one for ropes up to 3/8", not for thin cords.

Lots of pictures and video clips here.
PRICE: $21.00 + $0.00 S&H --> BUY NOW! <--
---