4 Rubber expansion nuts (well nuts) - Makes installation easy on sit-op-tops
Item #: 5095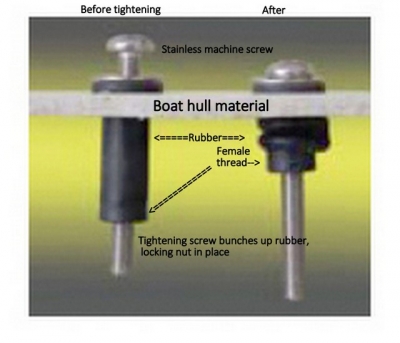 Rubber insert with brass female thread allows bolt-on installation even when you can't get to the back side to hold a nut. Rubber nut works kind of like a "molly" or "screw plug" hollow wall anchor you might use in your house to hang a picture or a shelf bracket. Just drill hole, insert rubber nut (rubber collar keeps it from falling through and seals hole), and screw in your bolt. As you tighten, rubber shaft on inside scrunches up so rubber nut resists pulling out and holds your accessory firmly. Set of 4.

Free shipping when ordered with something else that has a shipping cost. Otherwise, $6 shipping will be applied manually when your order is processed.

Note: item 6004 sail kit straps on -- no bolts, no drilling, no rubber nuts.

Kayak sail kit options, upgrades and accessories page: Click Here.
PRICE: $6.00 + $0.00 S&H --> BUY NOW! <--
---