Sea Eagle 300X Explorer 1-Person Sailing Kayak
Item #: 310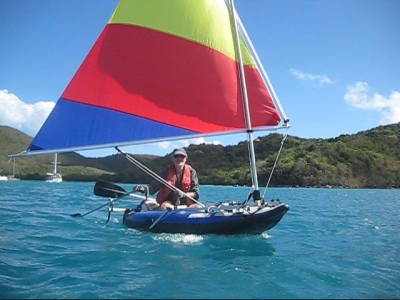 A solo sailing kayak that's a barrel of fun. Zip around a lake or ocean cove one day under sail, and then take the sail kit off and go whitewater kayaking down a wild river the next. This package combines the SailboatsToGo 45 SF folding upwind sail kit (item 6026) and the Sea Eagle 300X Explorer Kayak "Deluxe" Package. This is a very tough and nimble inflatable kayak and it comes with paddle, inflatable high back seat, foot pump and carry bag for the boat. See video clips (click here) of this baby in action! We offer similar deals on the other 300X packages ("Pro" and "Pro Carbon"). You always save at least $100 buying the sail kit and kayak from us as opposed to getting the kayak from the SeaEagle.com website and only the sail kit from SailboatsToGo. We took this kayak and sail kit to the Caribbean in Feb. 2014 and had a blast with it! Kayak sail kit options, upgrades and accessories page: Click Here. The video clips show boat with 45 SF sail and heavy duty mast playing in the Caribbean.
PRICE: $1349.00 + $0.00 S&H --> BUY NOW! <--
---
© 2001 - 2019 SailboatsToGo, LLC. All rights reserved.