Sail Kit for Pathfinder II kayak (Via Mare XXL) including stabilizer floats
Item #: 2026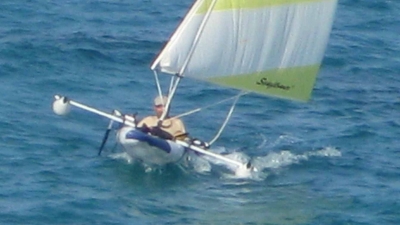 Everything you need to convert your Pathfinder II or Viamare XXL or 400 for sailing, including inflatable stabilizer floats, 45 SF nylon sail (color scheme choices shown here ), mast, frame, leeboards so you can tack into the wind, two ruddering oars and their mounting bar, straps. Options to consider adding: sail kit carrying bag (item 6007, upgrade to larger sail with taller stronger mast (item 5011). If you don't already have the kayak, item 2025 is sail kit with kayak. This boat is now renamed the Viamare XXL or Viamare 400 in some markets but it is the same boat. This price includes the inflatable stabilizer floats, whereas on most other kits it is an extra-cost option. Kayak sail kit options, upgrades and accessories page: Click Here.
PRICE: $759.00 + $35.00 S&H --> BUY NOW! <--
---
© 2001 - 2019 SailboatsToGo, LLC. All rights reserved.