Upgrade Hydrodynamic Stabilizer Order to Square Posts
Item #: 1031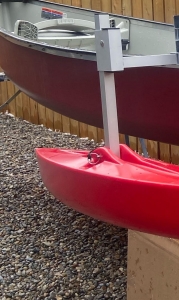 Upgrade your stabilizer order to square posts and the simple one-hand-operated star-knob clamp instead of lever locks.

Square posts mean that your floats are always perfectly alighed at right-angle to your float arms. And the up-down adjustment is much easier to do. Result: More convenient set-up and adjustment; more secure holding of float alignment when you are moving along.

This item can only be purchased in conjunction with an order for a hydrodynamic stabilizer (complete system or just floats and arms). Its low price reflects a credit for deleting the round-post arms in your order. If, on the other hand, you are wanting to upgrade to square posts on a pair of round-post floats and arms you already have, order item 1037 instead. With #1037, you'll get a pair of square posts that fit over your round ones and accept the same pin you already have to secure them to the float plus you'll get a pair of arms fitted with the square-post clamp.

If you're ready to order just click the "buy now" link at lower right. If you want more info, here's a link to an Explanatory Page on the Square Post Conversion System.
PRICE: $50.00 + $5.00 S&H --> BUY NOW! <--
---