Return to: Sailing Canoe - Canoe Sailing Rigs
Crossbar seat
Item #: 5068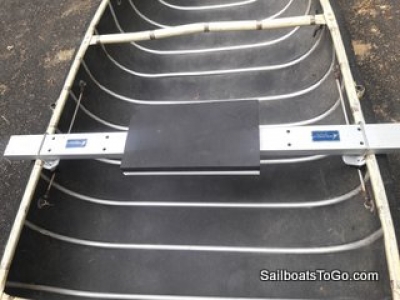 Turns our double-tube crossbar (item 5034) into a seat. Clamp this seating surface to our canoe stabilizer and now you've got a combination stabilizer and seat. It's a flat seat with cushion, about 8" x 14". Clamps tighten with hand knobs, so it's a quick no-tool installation and removal process, yet very secure.

Free shipping when ordered as part of a larger order. Otherwise, we will add $15 shipping. Plug our rowing outriggers (item 5030) into the crossbar underneath and it serves as a great rowing seat -- nice to have the crossbar under you instead of in front of you! This seat cannot be used by itself. It requires the double-tube crossbar under it. Crossbar comes with our stabilizers, or many of our rowing packages. Or can be purchased separately.

Canoe sail kit options, upgrades and accessories page: Click Here.
PRICE: $85.00 + $0.00 S&H --> BUY NOW! <--
---