Return to: Sailing Canoe - Canoe Sailing Rigs
Hinged Motor mount for Canoe - The Flipper!
Item #: 5052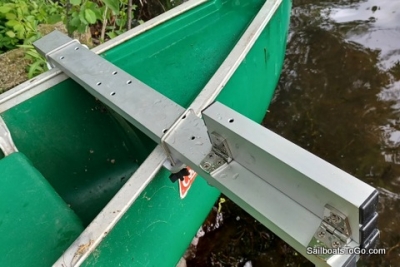 Protects your trolling motor setup when you hit an underwater obstruction, because it allows the underwater unit to swing back upon impact. Also offers the convenience of swinging your motor up in shallow water or when passing over a rock or sandbar just by pressing down on the tiller you are already holding.

This motor mount is also very versatile. It accepts our stabilizer floats (either inflatable or hard plastic Hydrodynamic), or slip-on wheels. ($10 extra to have it sent to you drilled for accepting the spring buttons of stabilizer float arms -- just request in order comments).

Rugged construction using aluminum and stainless steel. Clamps to gunwale lips of almost any canoe. Available in 36" length or 45" length. The block is 10" so clamps can be up to 26" apart on the 36 incher or 35" apart on the 45 incher. We will send the 36" unless you request the longer one in your order comments. You will see the order comment space when you check out, right under the phone number and email spaces.
PRICE: $125.00 + $15.00 S&H --> BUY NOW! <--
---