Return to: Inflatable Dinghy Sailing Rigs
Folding Canoe and Kayak Cart, 12-in. wheels
Item #: 5059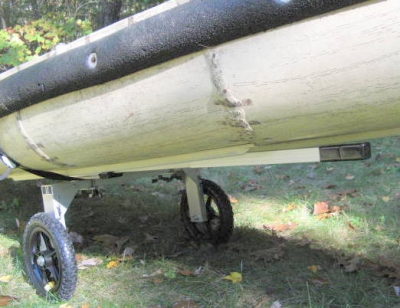 Trundle your canoe, kayak other small boat conveniently to or from the water's edge with this amazingly well-designed and well-made folding cart. Ruggedly built trolley is lightweight and compact. Snaps apart and wheels fold up like airplane landing gear. 12-inch pneumatic tires. Straps to secure boat to cart are included. See item 5062 for same thing but with fatter, bigger wheels which roll easier on sand and soft ground. More Details and Pictures of Canoe Cart Click Here Width extender see item 5101. The bunkers (black rubber-topped boat supports on the crossbar) can be slid to any position and locked in place. Maximum spacing between the bunks (support pads) is 20 inches outside-to-outside. With 15-inch optional extension installed, 35 inches outside-to-outside. Top surface of bunks is 2 inches above the crossbar and height is not adjustable.
PRICE: $189.00 + $17.00 S&H --> BUY NOW! <--
---
© 2001 - 2014 SailboatsToGo, LLC. All rights reserved.