Return to: Inflatable Dinghy Sailing Rigs
Complete Inflatable Sailboat (11 foot XR116GTX Super Caravelle)
Item #: 2006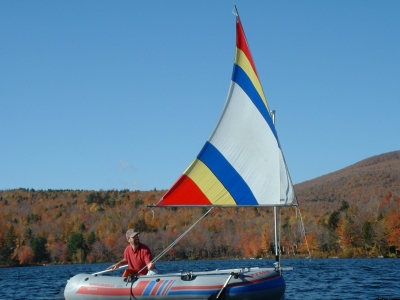 Click picture to enlarge. Every Sevylor dealer says the 11-foot XR116GTX Super Caravelle is the public's favorite. With our sail rig on it, you have one comfortable, capable sailboat for calm waters. Yet it will still travel in your luggage and store under your bed. Hull is a mere 38 pounds. 45-square-foot nylon sail. Comfortable for 3 adults, possible for 4. Compared to other models, it has higher sides and tremendous 1100-pound-capacity rating. But it does not attain the rigidity of some of the other boats we offer (e.g., Mariner, Seahawk II, Seahawk Sport 400, any of the "SVX" models). Accepts motor mount for gas or electric outboard. Oars, pump, duffel bag (for sail rig) sold separately (item 2008 as a set or order separately). If you plan to get a motor mount and use it with the sail rig at the same time, email us for some extra little parts you'll need. Note: Uses a 52-inch front crossbar that does not come apart, unless you order item 2057 snap-apart option.
PRICE: $749.00 + $60.00 S&H --> BUY NOW! <--
---
© 2001 - 2014 SailboatsToGo, LLC. All rights reserved.