Return to: Inflatable Dinghy Sailing Rigs
Heavy duty mast upgrade
Item #: 5016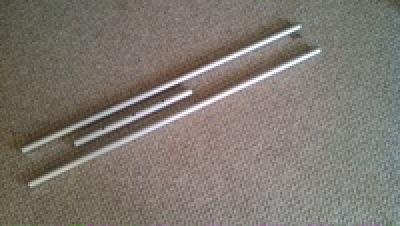 Twice as strong on the bottom half of the mast, so you can keep the sail up high even in stronger winds. With the standard mast, when the white caps appear, it's time to lower the sail a foot to reduce strain on the mast. Only a pound heavier. Still fits in the optional rig bag. Not shock-corded. Pieces lock together with spring button instead. This price is to substitute this mast for the standard mast when ordering a rig. Don't put this in your shopping cart if you are getting it free with upgrade to 55 SF nylon sail. Just email jim@sailboatstogo.com to say you want the free upgrade in that case. Fits Super Snark, Sea Snark and Sunflower if you remove boat's mast sleeve.
PRICE: $59.00 + $2.00 S&H --> BUY NOW! <--
---
© 2001 - 2014 SailboatsToGo, LLC. All rights reserved.