Colors You Can Choose
For Your SailboatsToGo Custom Dacron Sail
Dacron sails are more heavy-duty than nylon, and off you a wider choice of color schemes. These are made in USA by a custom sail shop (not Neil Pryde, but equal in our opinion) that does them one at a time, with the same care and quality materials used on the many larger sails they make for yachts. See closeups of the workmanship: Click Here . Ready-made alternative option: Save time and money by choosing one of our in-stock Neil Pryde Dacron sails. See Neil Pryde Sail Color Schemes Here
These are all the sail colors we usually have available for the custom made Dacron sails. Note color rendition is approximate as best, since every computer monitor will show these differently. You can choose up to 4 different colors for 45 SF sail or 5 for a 55 SF sail.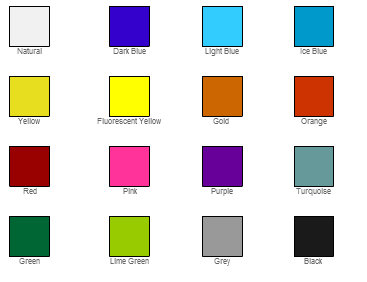 Lime green availability is iffy. Ask. The following colors trigger a surcharge: Light Blue, Gold, Grey,
Pink, Purple, Turquoise, Fluorescent Pink, Fluorescent Yellow (Most it could be is $45, but let us know what you want and we'll price it up.)
See other views of some of these same colors in the photos of sails below. For example, the purple rendition is poor in the photo above, but it shows up well on one of the sails below (picture with boat and "SailboatsToGo.com" on the sail.
Not shown but also available: White, black.
--------------------------------------------------------------------
Examples: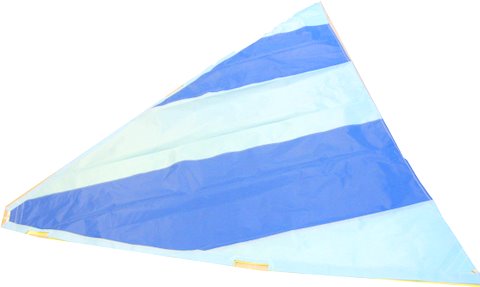 1 - Light blue/dark blue/light blue/dark blue/light blue - One of our favorites. See it on a kayak on the River Thames farther down the page.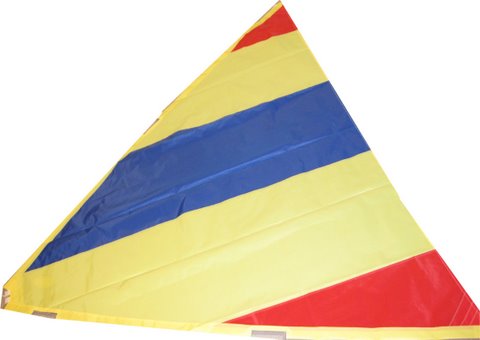 2-Red/yellow/dark blue/yellow/red This looks good in the picture, and is really stunning in person.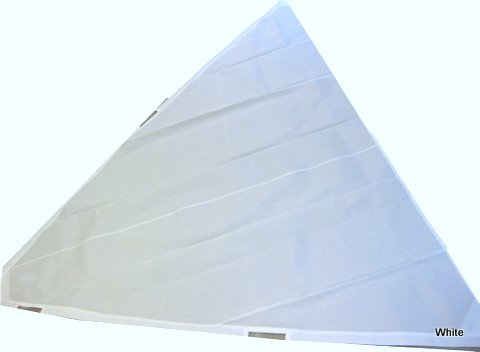 3 - White. Classic.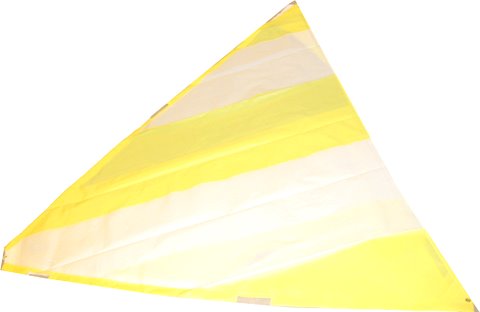 4- yellow/white/yellow/white/yellow - Very light and bright. this pattern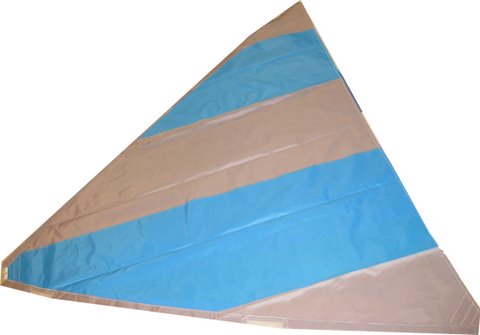 5- gray/ice blue/gray/ice blue/gray -- Bold and strong
--------------------------------------------------------------------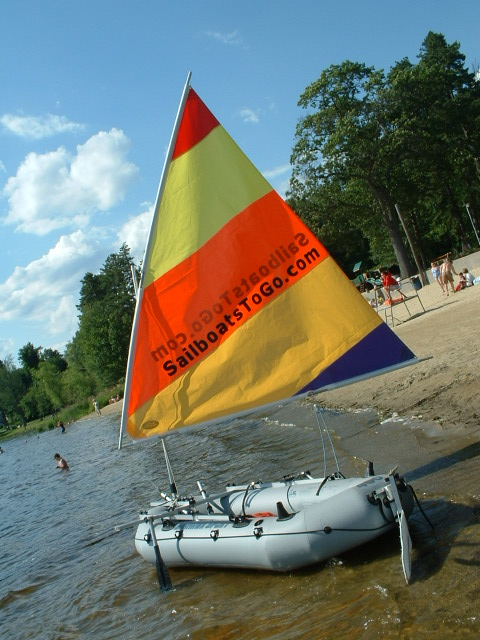 Your sail will not have "SailboatsToGo.com" lettering*. But this photo shows the 5 distinct panels that make up a 55 S.F. sail. The 45 S.F. sail is similar but has just 4 panels. So, after ordering your sail, please specify a color for each panel. Number the panels starting from the bottom, so in the above photo, it is 1- purple, 2- gold, 3- flourescent orange, 4- yellow, 5- red.
The sail on this kayak below (somewhere in England) is light blue and dark blue and is quite nice looking. It may look white and dark blue, but it's not. There is something about the reduced contrast in the light-blue/dark-blue combination, as opposed to white/dark-blue, that is quite attractive.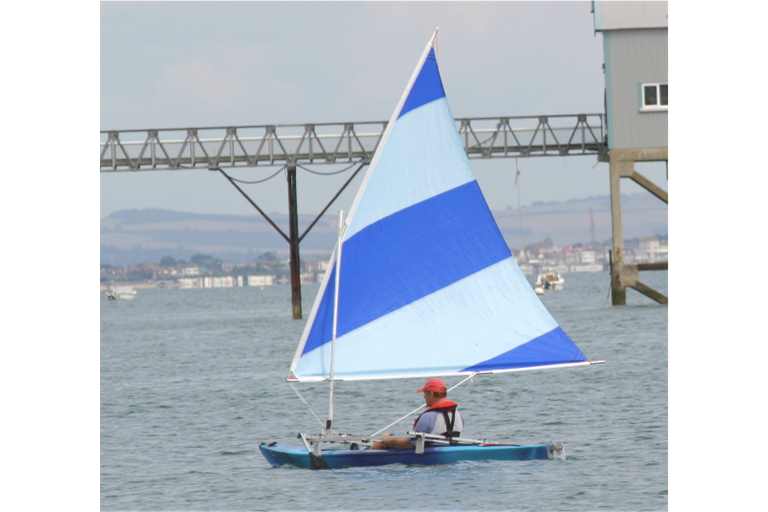 "Jim
... yesterday I sailed my canoe for the first time. I am pleased to provide you with a few photos of this great occaision. Jim, thanks to you making this possible.
Kind regards
Rob M., U.K."
(Apparently, in the U.K., they call a kayak a canoe.)
*You can order lettering on any custom dacron sail at an additional cost of $7/letter. The multi-color sail shown has lettering both sides, which is double the cost (Example: A 5-letter word on one side is $35 or on both sides it is $70).