Return to: Inflatable Dinghy Sailing Rigs
SVX500DS 17-ft. Inflatable Sailing Kayak OUT OF STOCK
Item #: 2024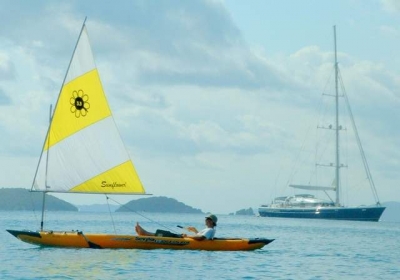 This item is discontinued but we recommend the Sea Eagle 465 FT as a good substitute. See item 305. Seventeen feet of inflatable sailboat, and yet still extremely portable. The hull is only about 45 lbs., and comes with pump, bag, 2 seats and pressure gauge. The sail kit is our item 2021 with adaptor (item 2023 ). Suitable for up to 3 adults or 2 adults & 2 kids. It's fast, portable, comfortable and fun. Available upgrades include larger sail & heavy duty mast (item 5011), stabilizers (item 1006 ) and carry bag for sail kit (item 6005 or 3012). Allow 3 weeks for delivery. (We can deliver the sail kit faster, but it's the boat delivery that takes time. Feel free to order boat from elsewhere and just get the sail kit from us. The boats are handled by many mass merchants on the web, whose prices and delivery times may be better. See for example, www.inflatablesstore.com). For video click arrowhead in the middle of screen:
PRICE: $1549.00 + $85.00 S&H --> BUY NOW! <--
---
© 2001 - 2014 SailboatsToGo, LLC. All rights reserved.